After downloading Android Studio and installation process which might take two to three hours depending on the speed internet connection as most of these packages should be downloaded one by one and their installation process in completely automated. Go to Omni bar or search bar of computer and from there write down Android Studio and then click on search to load Android Studio.
Depending upon the speed of your computer and hardware settings this could take some time to load for the first time and it is better to connect to internet so that even after installation of all packages it would connect to internet and check for some updates out there.
If you are opening it for the very first time then you would find a completely new window which would allow you to create the new project for the first time. If you are running for the second or next time then you would find the different lay out and loading of Android Studio is comparatively faster.
In order to create the new project with Android Studio you only go to file then new and then go to new project.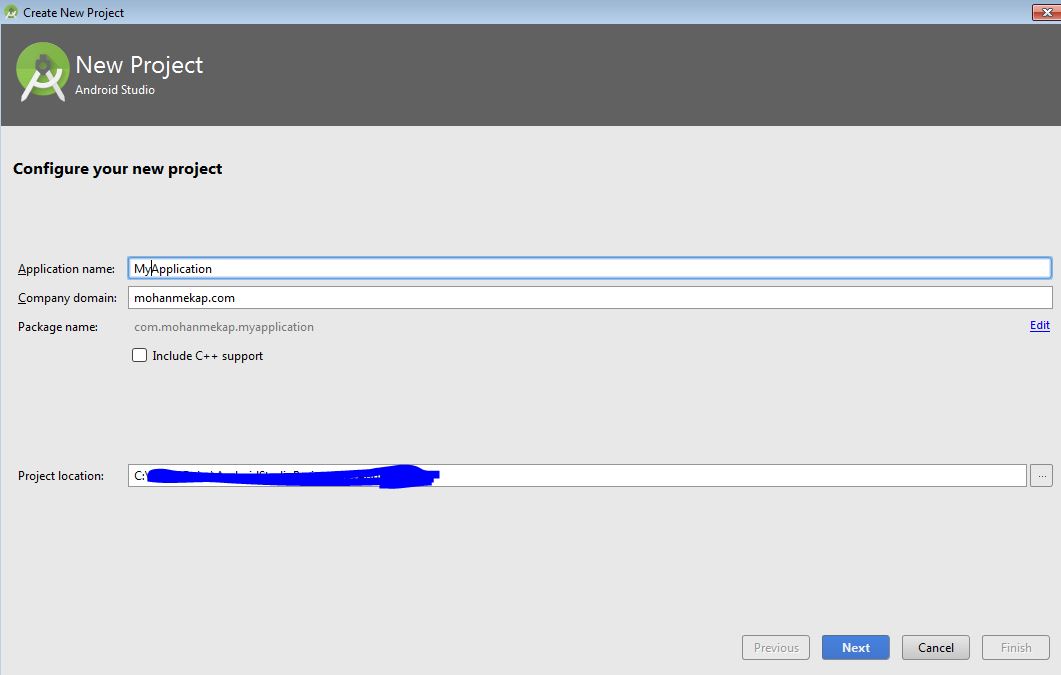 Here, project means development of apps. Now you should reach at 'Create New Project' and from there 'Configure your new project' and from there you have two options one is 'Application name' and the other is 'Company Domain'. Now, put 'Myapplication' inside 'Application name' and then inside 'Company Domain' fill up 'mohanmekap.com'. Here I put the name of my site and you are free to put yours at those location.
Then click 'Next' and you should be reaching towards 'Target Android Devices'. Here you would be given from the list of options of different platforms that may require separate software development kits (SDKs) such as for phone and tablet or for android wear, tv, android Auto and android glass. For the first time we should be ticking only 'Phone and Tablet'.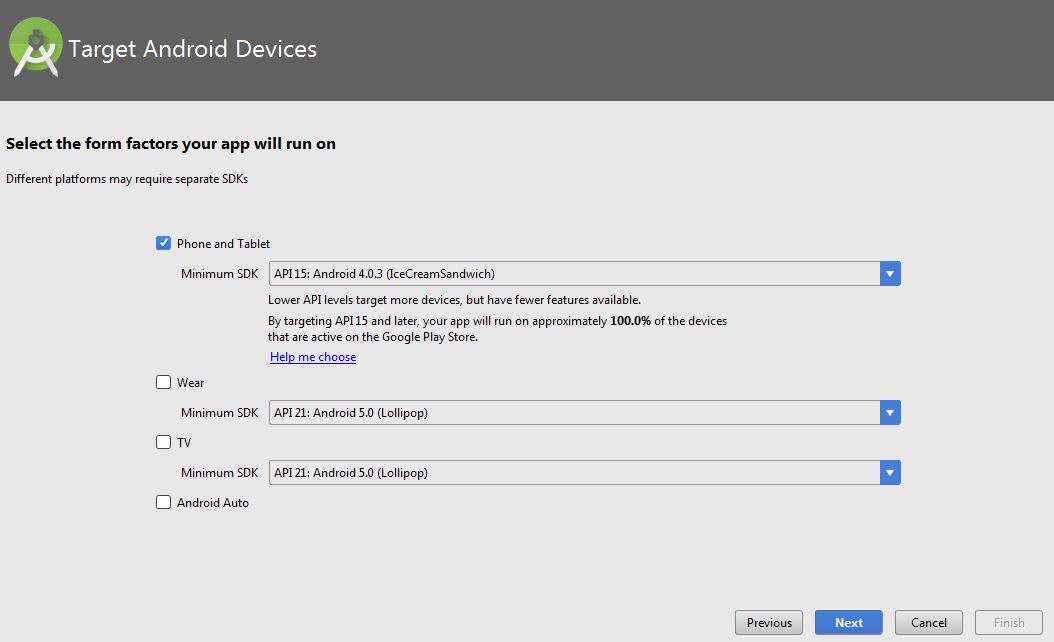 In the sub-category of 'Minimum SDK' you should be putting 'API 15: Android 4.0.3..' By targeting API 15 and later yours application will run with approximately 96.2 percentages of android devices.
The sole motive of building of yours android is to cover most of android devices otherwise the aim and goal of reaching out to maximum people could not be realized.
Then, click on the 'Next' to reach to next screen of Android Studio. In the next screen we should be reaching out to 'Add an activity to Mobile' and here there are various activities out and from here according to our development of apps we could choose any activity. These templates are nothing but the front screen of app where we would choose to write something out there.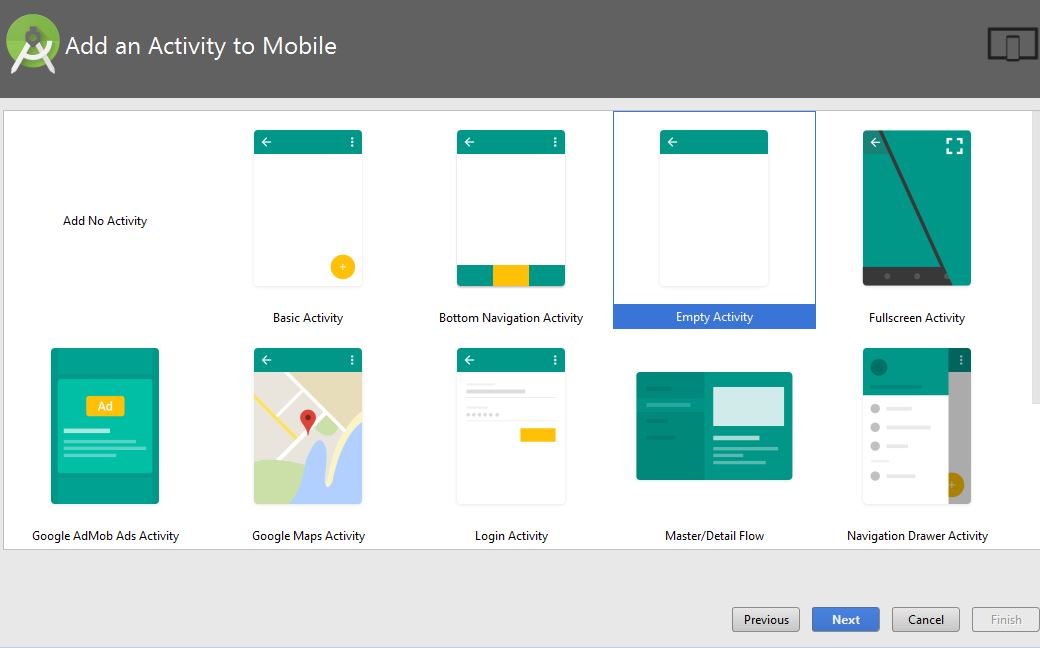 While learning about Android Studio we would choose the 'Empty Activity' and then click on 'Next'. Now you should be reaching to the stage known as 'Customize the Activity' and from 'Create a new empty activity with app bar' and from here you will find the default name of activity is 'Main Activity' and for the time being we would leave that and then click on 'Finish' to reach to reach to the basic interface page of Android Studio. In order to reach to normal explorer window of Android Studio with gradle console build of project this should take some time depending upon the speed of your computer.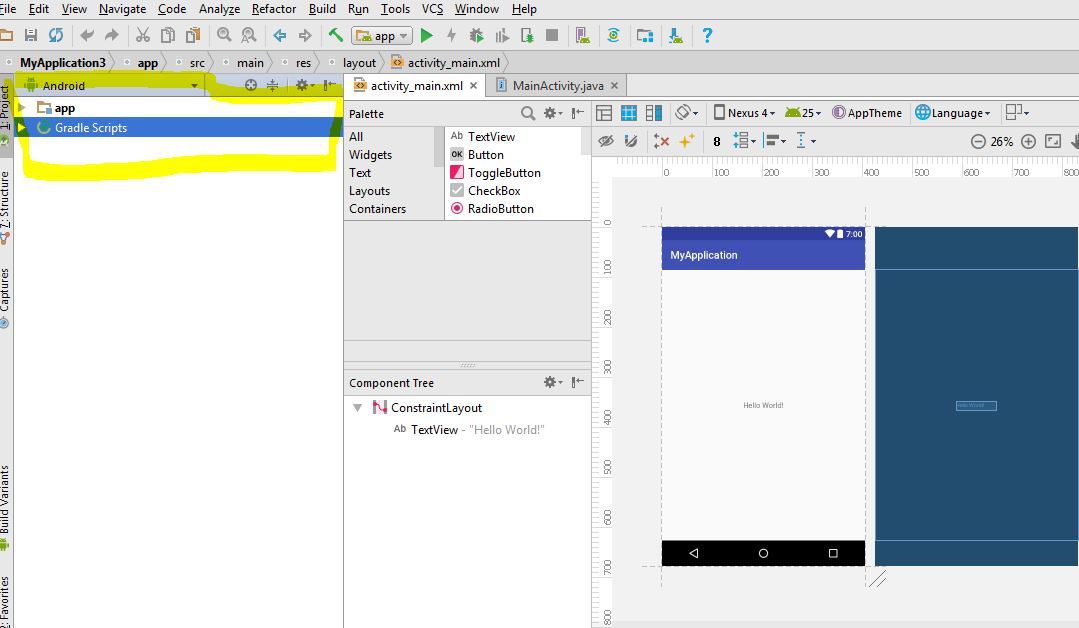 This is the project explorer bar and from here we could find each and every information and data stored of application. This is the project explorer tab and slowly all the components of project is being build upon and right here you could find that the different components and lay out of projects are out there. It contains various files that are being included inside of 'app' folder.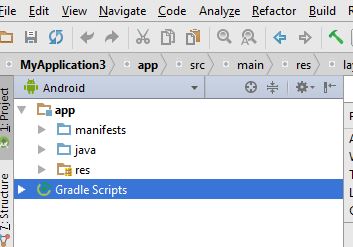 Always keep your attention to the progress bar of Android Studio  and once the building of customization is complete the progress bar will remain static and during the building of the change of the project the progress bar will keep popping up and wait for those moment and then start adding different element, activities and methods to yours application.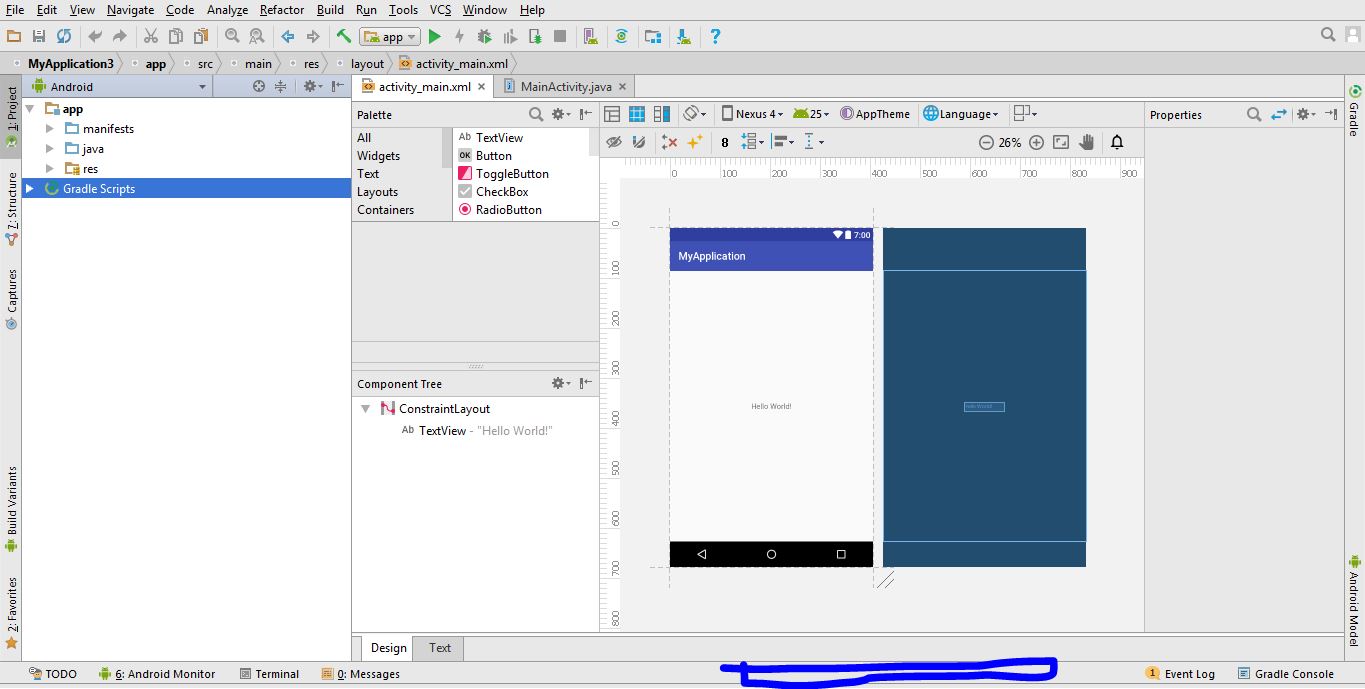 Now, ours project is completely loaded with Android Studio, and in the project explorer window we have 'app' folder which contains 'manifests' and click the triangular arrow and then you would find 'AndroidManifest.xml'.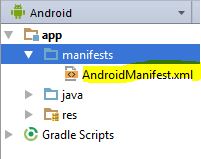 The 'AndroidManifest.xml' contains the xml file. Then go below to find the 'java' folder. Here, you can write down various java codes and edit the codes. Then we have 'res' the resources window under 'app' folder. Here, images and multimedia that has been included within the perimeter of app to be located out there and entire resources comes under the 'app' folder.
So far we have been able to learn how you set up your own Android Project for building up Android App with Android Studio.
These are preliminary and the most basic aspects of learning and writing the apps and before all of these one has to known clearly different attributes related with Android Studio so that during the course of writing out the code you would not be finding any difficulties as with due course of time you would find that writing the code with Android Studio has been very easy and one could easily develop application and there is no complete engineering expertise needed for this at all.
During the course of these guides we slowly learn about different characteristics dealing with different elements that have been there with Android Studio and after knowing and familiarizing ourselves with it we do slowly move towards the next level. Android Studio is basically a set up of compilation of various software development tools (SDKs) and with due course time it is recommended to download some important tools and in the later chapters we should be learning in detail about it.
Before venturing into creating of apps we would be familiarizing ourselves with the various elements and importance attached with various android studio requirements. Google has designed Android Studio considering two aspects of writing code as well as building up apps from graphical user interface and with due course of time we would be learning about it in completely detail and you should find that how easier to create apps as well as by using various code compilations we could reach towards complete and clearer development of apps.
In between we will learn how to speed up coding and remove any errors with code compilation so that ultimately the development of code and writing of code becomes extremely easier. Let us follow these tutorials and with these writings I am also learning these tricks with you and this should make us to create android app easier in the near future.
Related Articles