Being a web master, it is important to renovate yourself from time to time so as to create the most spectacular and faster website. My blog is not a full featured image blog and most of the time one or two images are hardly inside article. Still I wish to host images on other websites so that loading times of images should be fast and that should speed up website loading time.
In this era of faster web and speedier internet people, search engines like to see speedier loading times of website. With even one or two images are embedded inside article, if those images are not properly optimized then it takes a huge load of website loading times. That is why there is a complete necessity for absolute site management where the heavier part of website should load with faster speed so that overall speed of website takes a prominent part.
Even if one uses the system cache plugin like varnish cache, and content delivery network like the cloud flare for free or site lock for some money, still one finds out that at certain points speed of loading images slowing down website. There are various ways to host images with Google Drive, Flickr and so on but personally I find cloudinary is the best image hosting site.
It has various pricing option and the free option is best for small bloggers like me which provides 75,000 total images and videos hosting for free for a site with no time limits and fully featured like the other plans such as basic, basic plus, advanced and enterprise custom plans. It provides 7,500 monthly transformations, 2GB monthly storages and 5Gb monthly net-viewing bandwidths.
Apart from this other paid options provide huge form of convenience for users to have more affordability if they choose such plans out there. In the free plan upload images to cloud based storages, automatically back up and revision tracking. It provides an API for free users so that by installing the plugin with wordpress and then installing the API the image uploading process becomes much easier from the blog post editor itself.
All original images are uploaded to cloudinary and all the other back ups and its timeliness of back up schedules are well kept in order so that you could browse older revision of images. It has tons of image manipulation and effects and most of the images are well optimized before they appear on website.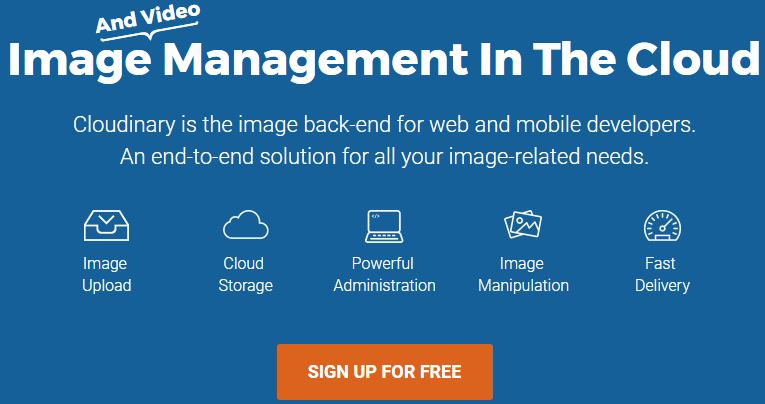 Apart from all of these it does provide faster content delivery network for images and faster website loading times. Here one can upload any multimedia contents including videos, pdfs and other. Cloudinary image APIs are available even for free to use users and that makes back end of application smoother for uploading of images.
After registering with this, do remember to install its plugin in wordpress admin and then from the dashboard of cloudinary plugin use the same user name and password and the APIs information to be put there which is available in cloudinary dashboard from website.
Then the next processes are easy. Whenever you write an new article, in the post editor of wordpress admin, you should find another tab namely cloudinary upload / insert and from there you can upload, images that should straightly goes into cloudinary hosting account and in this way, you get effort less hosting and it automatically inserts in yours article and when you post it you could see the speed in which it loads and that makes page loading times difference all have to see and find out.
The single most satisfying aspect of this image hosting is that, even in its free options there are provisions for full scale usages and this option is best for any of the single blog owner like me. I have experienced and find out the speed in which it loads images and that makes the website fast and superlative to use.
Apart from all of these measures, cloudinary also has many security parameters to secure your website and its images such as the presence of two factor authentication system which requires the presence of smart phone authenticator in addition to a password to make almost impregnable for hackers.
Apart from these there are provisions for strict transformations of image and video formats, and when these are enabled, the dynamic custom transformations, for example URL parameters are not allowed unless signed URLs are used. It also sees the exclusions of named transformations, requested transformations made using the authenticated and dynamic transformations manually marked as allowed through the management console.
User can restrict image types such as facebook profile, google+ and other images formats such as gravatar, fetched URK, animoto, daily motion, static asset, text, Instagram name, twitter profile id, YouTube videos and so on. What does indicate is that the presence of such mediums and security mechanisms could provide some of the most awesomely managed implication of images on your website so that website loading times becomes faster.
With this cloud storages all of your file are stored in one single location to be accessed anywhere from any devices without any difficulties. In this way, if your account configuration permits you can be safely. Due to the presence of a web based management console you can control everything you need from one single location without any difficulties.
Due to presence of mobiles in every platform and while you are on the go the present and validation of such image hosting sites becomes easily accessible. Of course due to presence of different option for image hosting there are various options and multiple conveniences for web users are there, and it is for them to decide upon and in this article I try to elaborate an option for web user and web administrations about learning and experimenting this so that at the longer stretch of time they could go forward in implementing such measures of either the free options or the cost effective options.
There is free option for webmasters to check this out and most of times this should be sufficient enough and if they wish to have more options, then they could move towards other pricing so to suit the need of their website for better implementation of image management.
Though there has been so many different ideas and discussion over should we use content delivery network for images but still one finds it to use it so that load on server should be minimized completely and that should be the main aim to make your website faster and more rapid in loading so that ultimately the server remains as fast as it could.
Join Cloudinary and manage your website in the cloud (Affiliate URL)
Related Articles