There is the ever debate question about whether the browser tab should be at the top of it or should be below but most of the modern web browsers have showcased their endeavor for a better position but most of them stick to the idea of staying at the top of the web browser. It seems positioning of a tab at the top is the most logical conclusion for most of the users.
Opera has been the pioneer in introducing more and more logical influences of new and innovative ideas to showcase the performance of tabs in right order. It provides the presence of back, forward, refreshes and home icons as well as there are various ways to customize their positions.
Since Mozilla Firefox 4 we have seen the presence of tab at the top and it continues to stay there. Most of these web browsers have their tabs at the top and that suited most. In the later versions of Opera, we do see and find the presence of 'Add to Bookmarks' logo at the end of the tab bar.
Google Chrome comes to these competitions in the later stages and showcased some of the most wildly and vividly presentations of replacing windows title with a tab bar to showcase the single most minimalistic presentations of tab bar ideas. During those times Apple tried similar tab arrangements with Safar but later on abandoned that idea.
Later on, Apple's Safari showcased the presentation of an arrangement of tab below the address bar. In the older version of Internet Explorer, the present of tab below everything we can foud but later on a tab is below the address bar and address bar replacing windows title.
Firefox is flexible and there is a presence of so many tab options and add-ons that these can easily be configured and customized at will. During the experience of Mozilla Firefox, we do see this influenced further development of Chrome and Opera in their future versions.
With all kinds of conveniences in their address bar showcased and helped to have all kinds of information in it provide the excellent amalgamation of ideas of providing each and every information in it.
With Opera, there is the flexibility to show which icons that need to be there. Generally Opera Turbo is not enabled by default and so its icon will not be shown in address bar and for this you have to go to settings, and the browser and then opera turbo and then enable opera turbo in it and then the icon will be shown beside address bar just down the tab placements otherwise it will not be shown.
At the start of the address bar, there will be a half clock icon and that will be the visibility factors that we are talking about. What it makes further interesting is the presence of address bar just below the tab segments and this makes realize easily that which tab bar you are using and for which purposes.
Opera Start Page Customisation
In Opera there is greater control out there such as you can customise the presence of start page by reaching to settings, and the browser and then start page and then you can hide search box, hide speed dial, hide add a site button, show speed dial suggestions, and adjust speed dial animations for slower hardware and allow how many maxima of columns would be there for speed dials such as default is 7 for it.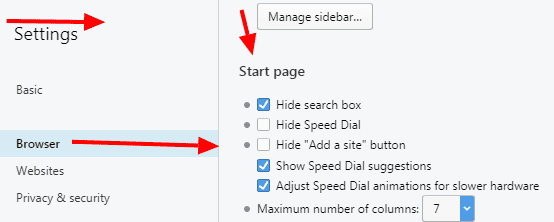 What it makes is that in the first hand it provides convenience for greater control of settings with opera and on the other hand it provides similar situations for how to make customization lesser intrusive as well as that of lesser suggestive and good support for the strength of hardware acceleration.
If your computer has the better hardware then you can untick adjust speed dial animations for slower hardware or vice versa. So far from my experience, I have seen that Opera provides fully customization complete user convenience to works with these and that makes the functionalities of performances of web browse suit according to the need and essence of users.
Customising user Interface of Opera:
A user interface of Opera is the presence of vividly making it viewable and watchable for complete convenience of users. Here you can customise interface such as whether to show or hide bookmarks bar, whether to enable or disable dark theme at the address bar, welcome bar, and tab bar, whether to show tab previews which will show the tab which is opened other than the present tab and that will provide vivid information about it, whether to show or not cycle tabs in most recently used order and this functionality helps users when most of the tabs are opened and most difficult to use them.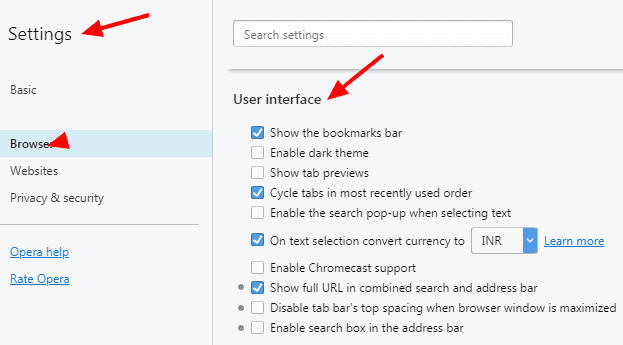 Then there are ways to control the performance of texts when the website is opened by enabling the search pop up when you select the text, conversion of currency when you select it on the text field, it also supports chrome cast support, whether or not to show full URL in combined search bar and address bar and it is important to enable it as it will help you to identify malicious URLs.
When web browser window is maximized then you can automatically ask for tabs placement so that within that space most of the opened tabs should be seen easily. If you want to see search bar in the address bar and that would be minimizing the space of address bar further and for this, it is your decision to enable or disable search box in the address bar.
Enable or disable Wallpapers with Opera:
What it makes that there are many ways you can customize the presence of user interface easily, and from among these is whether to enable or disable wallpapers and if you enable it then you have various options to choose it from and also you can get more wallpapers. In another web browser other than opera the wallpapers provisions are not there inbuilt with it and for it one needs to add the start page add-ons but in this case, we do see and find that the presence of wallpapers is inbuilt with Opera.
Apart from all of these options, there are options to download some wallpapers and this makes the look and feel of Opera glorious. Apart from this if you enable VPN then Opera Turbo will automatically disabled and vice versa.
For computers, those have graphical user interface we do find the presence of hardware acceleration to provide absolute speeding up of web browsing and apart from that there is battery saver which can be very much helpful in the case with laptops or if you want to stop background services from connecting to the internet without yours notice.
If you are downloading any software then it is a wise idea to use battery saver so that all the other background services should be stopped and this accelerates the speed of downloads, as well as this, also makes the running of web browser speedier and tab placements faster.
If you want to add all the opened tabs as speed dial then just right click on any tab and save all tabs as Speed Dial folder and that will save all the opened tabs into speed dials.
In this way, you can pin the tab, duplicate tab, mute tab, close tab, close other tabs, close tabs to the right and reopen last closed tab. Considering the number of customizations available with Opera web browser one can finally conclude that there are so many ways you can speeds up tab loading, tab management, tab preview and some others various innovative ways to manage tab placements.
Related Articles
326 Views