Blogger is free blogging platform from Google. It is one of the best for new as well as advanced bloggers. It is different from WordPress. Most of the jobs in Blogger is there already. It is mostly for newbies to practices and gets the best out of blogging platforms.
When we talk and compare about comment system of Blogger and WordPress, we find that after Google Updates its comment system which is now completely synchronized with Google+ the amount of comment spam is vastly on the decline.
This can be enabled through Settings and then Posts, comments, and sharing. Then go to Google+ comments. Here in the sub-column 'Use Google+ comments on this blog' and then beside it there is a drop down box and choose 'yes' from there.
Now, yours blogger commenting system is connected to Google+ united commenting system and this is very useful as it cut down drastically the amount of comment spam appearing in the system.
Choose which Google+ profile or page you share to
Sign in to Blogger.
In the top left, click the Down arrow Down Arrow.
Select the blog to update.
In the left menu, click Settings and then Posts, comments and sharing.
Under "Share to Google+," click the Down arrow next to "choose your Google+ page or profile."
In the top right, click Save settings.
As compared to WordPress commenting system where users get most of the times so many spams and that makes the administrator to difficulties in managing comment spam management whereas in blogger with Google+ comment system one finds absolutely fantastically there are no worries about the removal of spam comments.
Users in the case of Google+ comments system in Blogger have to sign with Google account and in any case, if there are any users trying to spam then google and the host of other users refer and then Google stops that users from sending spam messages to everyone.
In addition to this when a user sends a comment and post the new post then it automatically asks to send to Google+ profile and this way you get more and more post views and sharing with Google+ becomes absolutely easier.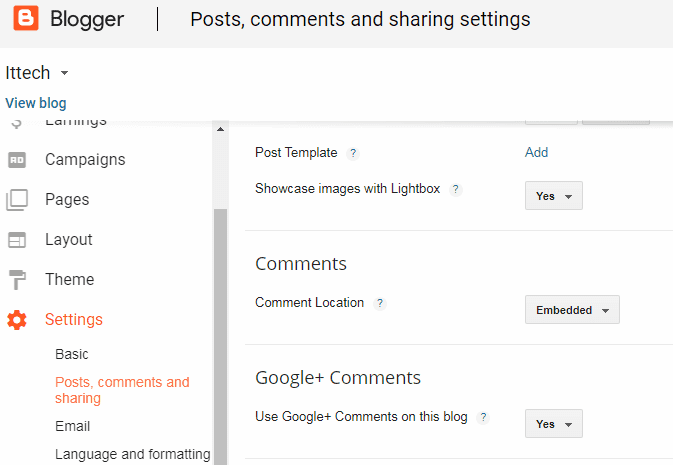 Alternatively in the case with WordPress the user have to install a plugin such as Akismet or others otherwise, the amount of spam that would be reaching to your blog would slowly and for surely make you worried due to presence of so much of unwanted comments from the different sources and deleting them one by one also take time to perform.
We do know that use of such comment plugins in the form of Akismet and others do slow down website as well as it takes huge chunk of server resources and this means if loads on server exceeds from a certain point then there must be for sure your website would be down even in the times of high viewers zones.
What this will make is that ultimately there would be slower server responses and slower presence of a website and this means huge slows down and reduction of earnings. In a way in most of the WordPress websites be it of self-hosted or that of from WordPress.org we do find that most of the times, due to the presence of anti-spam plugins the running of the server becomes slower.
As all of these comments are checked through plugins servers and this makes website slows down as most of the times a limitation of server resources are distributed in most of the shared hosting and if that chunk of server resources are eaten for the processes of checking out authenticity of comments then it further slows down website as there is very much little room for websites to run on rest of hosting parameters.
In addition to this, there are various resources with which the commenting system of Blogger can be managed with. Such as it can be added to embeded, full page, pop up windows or even you can hide the commenting system fully to make your blog to stop comments entirely.
The manner in which the blogging and its commenting system work with Blogger is far superior to that of WordPress but still, there is some basic and intrinsic system inside WordPress where one can enable this to remove comments spam even without installing plugins.
Sadly but it is true that these are most of for advanced users but for normal users changing these settings works nicely with Blogger commenting system.
How to completely disable WordPress comments?
First, we start from the front end of WordPress that is WordPress admin and from there, go to settings and then to discussions settings. In its default article settings untick the attempt to notify any blogs linked from article and then in the second sub-segment that is other comment settings, tick on comment author must name and email, then tick on users must be registered and logged in to comment and then tick on automatically close comments on articles older than 0 days. In its box provide 0 and this will disable all the articles to providing comments.
Then go to settings and then general settings and from there scroll down, and in the membership, segment untick on anyone can register. If you remember properly in the previous discussion settings you have made people register to comment and now you in the general settings you have disabled anyone can register and think about this logic. These are the editing to be done on the frontend of WordPress.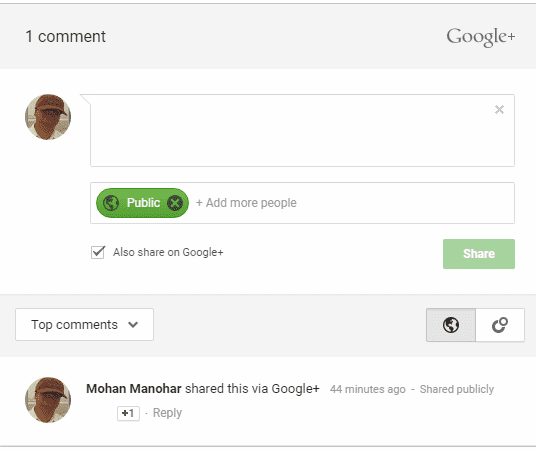 Of course whatever you are doing it, doing it at your own risk and it is recommended to backup your site properly and then do this.
In the backend of WordPress that is hosting side or cPanel logging do remember to do it at your own risk and if you have not done it properly then you could land up yourself with messing up your site completely. Login to cPanel in hosting side of WordPress and then move to File Explorer and then reach out to WordPress content and then themes and then if you are using any theme especially the Twenty Twelve theme then it is better to go for single.php file.
Back up that file on the local computer so that if any customization goes wrong then you can upload the previously best-used version to make your website run life again. Go for editing og single.php file and from there after opening it make control plus F to open the search page and then there search for following lines. I am quoting the example of Twenty Twelve and I suppose this should be similar to most of the other themes.
<?php comments_template( '', true ); ?>
When you find this above line then remove this one ( ", true ) Which means now the above line should be as follows:
<?php comments_template; ?>
This means now all of the comment segment from pages and as well as from post pages are gone. If you have done this all of correctly then after refreshing of your website you can find that, in single post pages as well as from single pages the comment segment is now completely gone. Now, you can feel the difference in loading times of your sites as well as the performance of server increases more.
Now you no longer need any anti-spam plugin which mostly connects to its own server by taking server resources of yours and that should have brought down the efficiency of your sites to a larger extents as well as now you can easily do away with these sort of server intermediation as well as move away all sorts of heavily embedded plugins of antispam that can slow down your site to a larger extent.
What it shows is that for the normal users who do not have so much of advanced knowledge about PHP and other web languages it is better to go with Blogger and then activate commenting system with Google+ and on the other hand if you have acquired knowledge about, then for sure you can go with WordPress and then you have so many vast options to choose it from and then customise the PHP through CPanel to make it work like the charm.
Ultimately, the choice is of yours to choose it from and it is up to web administrator to choose it from these wide varieties of options to make it work. Even if with WordPress you do apply many restrictions to stop spam comments but still you find that it is always hard to stop these but with Blogger and its Google+ commenting system the process is far easier and convenient to do so.
Sources:
Related Articles